How Have the Mighty Fallen at the End of the Old Year
By Bagga Wilks
At the beginning of the New Year 2012, the Manchester City vs Sunderland game could not have ended with greater drama. At the end of the first half, the score was scoreless. Coach Mancini made some changes to Manchester City line up in search of a victory. Micah Richards was brought in at right back for his attacking attributes. Aguero was asked to partner with Dzeko to expand the scoring potency. And the playmaker, David Silva brought in as a replacement for Nasri who was ineffectual.
Manchester City bombarded Sunderland hitting the cross bar, trying shots from inside and outside the area but no cigar. During the three minutes stoppage time, Sunderland scored on a break-away to steal three vital points and to thwart Manchester City from jumping ahead of Manchester United.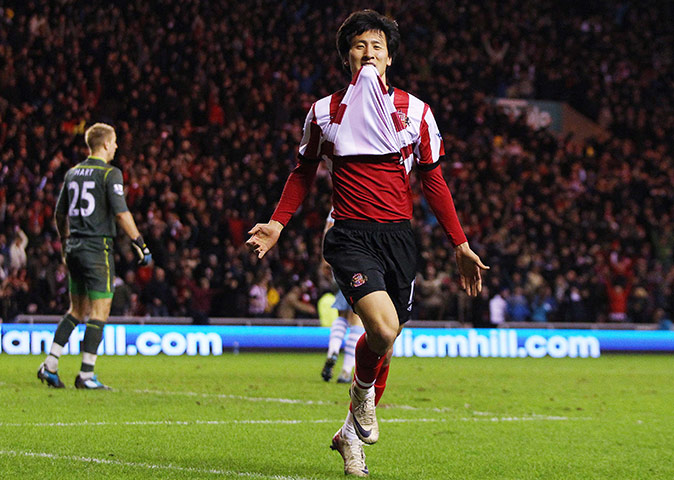 The English professional league is particularly grueling at the end of the year. The grind catches up with players around the half-way mark of the season. Manchester City is like a highly-touted heavyweight who finds himself winded in the middle of a championship fight and must catch a second wind to have a chance of finishing with splendor. Yaya Toure and David Silva are Mancini's spark plugs. Both do look winded as if the Premier League grind is beginning to take a toll. The goals are not coming in bunches. Arguero and Dzeko also are in need of a second wind.
Luckily for Manchester City at the start of the second half of the season, other rivals also seem to be running out of steam. Manchester United were defeated by lowly placed Blackburn. Manchester United rallied from a 2-0 deficit to draw even only to be beaten by a belated third goal.
Chelsea was stunned by Aston Villa as they managed to pierce Chelsea's defense three times. Chelsea appears like a deer blinded by headlights. One has to wonder if Villas Boas is not over his head. Chelsea has just not been able to establish any consistency for the first half of the season. They do not appear winded, just utterly confused.
Arsenal eked out a victory over Queens Park Rangers which means they have narrowed the gap between themselves and those at the top of the tables. Without Gervinho, there is no creative movement. Arsenal must improve their midfield in the January transfer market. They keep their shape better than any team in the EPL but they are too predictable in attack. Ramsey and Arteta are useful mid-field runners but they are not in the same league as a Mata, a Silva, a Modric or a Rooney. Wenger must discard some of his baggage and acquire a player like Germany's Mario Gotke. A player of Gotke's ability will take Arsenal to another level. What they presently possess is sufficient for a finish in the middle of the pack. Acquiring Henry for two months is simply window dressing. Wenger needs to be active in the January market if the Gunners are going to be a quality team.