Ball Harambee By Bagga Wilks
Adolph Hitler tired to conquer the world and failed abysmally. Hitler even sent bombers to the United Kingdom in an attempt to bring the British to their knees during World War 11.
Where the Nazis failed, democratic Germany has triumphed. Germany established their supremacy in the Champion's League as two German teams went to war at Wembley Stadium, London. Of course, the German Chancellor was proudly perched in Wembley Stadium overseeing the German Clubs. Bayern Munich and Dortmund fiercely battled on British soil for soccer supremacy. Both teams played like champions. The level of ball lived up to the expectation.
Bayern was the favorite but Dortmund dominated the first half and it looked as if we could be in for an upset. Both goalkeepers were scintillating and it was their superlative performance that kept the score nil all at the end of the first half.
In the second half, a long ball from Dante, the Brazilian central defender, found the Dortmund defenders napping. Robben got an opportunity to run at the Dortmund defenders and in a flash the favorites were on the scoreboard.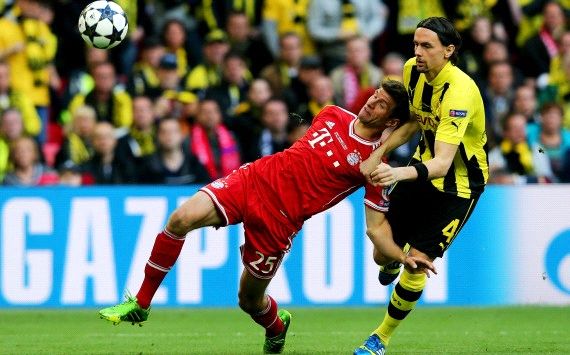 Dortmund equalized with a penalty. As the game progressed, Ribery and Robben got more and more opportunities to run at the Dortmund defenders. Nonetheless, it appeared that we would go into over-time and perhaps penalty kicks which Bayern lost to Chelsea in the Champion League last year.
Robben is a deft dribbler and his left foot is like a guided missile. For someone designated as a great player, Robben failed to play well in the World Cup final in South Africa in 2010 when the Netherlands lost to Spain. Bayern Munich lost the Champions League finals in 2011 and 2012. In both games Robben failed to rise to the occasion.
The 2013 Champions Final became Robben*s redemption. The flying Dutchman picked up a ball in the 89th minute and produced some magic that left Dortmund defenders spread-eagled. Robben scored in the 89th minute.
Bayern Munich for 2012-2013 was a cut above all other teams. Next year the Champions League final will not be monopolized by Germany, we hope, but the German teams displayed a high level of football and the Bundesliga has re-emerged as one of the top teams in the World and the German national team will be serious contenders for the 2014 World Cup in Brazil.